Introducing the newest member of the Uwell Caliburn series, Caliburn G2 Pod System Kit in Pakistan. Yes, it is great too! Uwell Caliburn G2 Pod Kit uses updated Replacement Pods with a more progressive airflow adjustment than Caliburn G. It also has an e-liquid check window, similar to the Caliburn A2, for checking the amount of e-liquid left in the Cartridge at any time. For MTL/RDL vaping, the Cartridge is compatible with the Caliburn G2 Coil 1.2ohm and the old Caliburn G Coil 0.8/1.0ohm. Furthermore, the built-in battery has been upgraded to 750mAh, which is larger than previous Caliburn series products. Caliburn G2 has been getting a tremendous response from across the world, and also from Pakistan.
Have you checked the latest member of the Uwell Caliburn series? Go check out the Uwell Caliburn GK2.
SPECIFICATIONS
Uwell Caliburn G2 Kit Parameters:
| | |
| --- | --- |
| Brand | Uwell |
| Product Name | Caliburn G2 Kit |
| Material | PA, Aluminium Alloy |
| Size | 110.5*22.5*13mm |
| E-juice Capacity | 2ml |
| Output Wattage | 18W |
| Battery Capacity | 750mAh |
| Coil Specification | FeCrAI UN2 Meshed-H 1.2ohm, FeCrAI UN2 Meshed-H 0.8ohm |
| Charging | Type-C |
| Color | Carbon Black, Pyrrole Scarlet, Shading Gray, Gradient, Ultramarine Blue, Cobalt Green |
FEATURES
Uwell Caliburn G2 Details:
Vibration interaction
Progressive airflow adjustment
Pre-installed meshed-H 1.2ohm Caliburn G2 coil
Compatible with 1.0ohm and 0.8ohm coil of Caliburn G
Provide MTL and restricted DTL vaping
Comfortable lip fitting
Pro-FOCS flavor adjusting tech
E-juice check window
Convenient top filling
Draw-activated and button-activated
WHAT'S NEW IN UWELL CALIBURN G2?
There's a lot of debate on what new features Caliburn G2 has brought that separate it from its other previous Caliburn members and also from the Caliburn G. Let us break into what new features Uwell Caliburn G2 inculcates for a whole new vaping experience.
The Caliburn G and Caliburn G2 Series are slightly different in that you can replace the coils- you don't have to discard the whole pod when the coil has deteriorated. This is obviously a lot cheaper and less waste – but some people would prefer the A-Series devices with disposable pods.
Included in the Caliburn G2 kit are the Meshed-H 1.2ohm and 0.8ohm coils – this kit is also compatible with the original Caliburn G coils too.
Another great addition is the small airflow control dial located on the pod – this was not a feature in the original kit.
Also, you have an E-liquid viewing window to see your liquid level at all times.
An LED indicator is provided plus there is a vibration alert feature.
The battery capacity has increased to 750mAh from the 690mAh of the original and the output of 18W stays the same.
Again there is a USB Type C charging port and the pod has a top fill port too.
Activation is either by manually pressing the fire button or you can simply inhale on the mouthpiece to trigger the auto draw firing.
There are 6 color options to choose from: Gradient, Pyrrole Scarlet, Cobalt Green, Shading Grey, Ultramarine, and Carbon Black.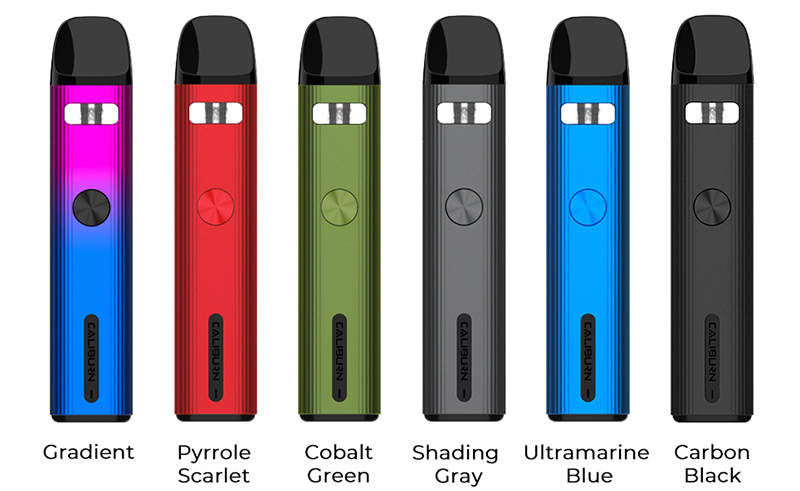 PACKAGE CONTENTS
The package of Caliburn G2 Pod Kit Comes With:
Caliburn G2 Pod System Kit
Meshed-H 1.2ohm Coil
Meshed-H 0.8ohm Coil
User Manual
Type-C Charging Cable